Missions
I Commit To Pray
Monday, 04 November 2013
icommittopray.com A place to gather and pray for the persecuted church. Read prayer requests from around the world and post your own prayers specifically for your brothers and sisters who are being persecuted.
---
EFCA Update on Japan
Monday, 14 March 2011, by SiteAdmin
Japan Earthquake Relief:
As the world begins to understand the enormity of the March 11 earthquake, tsunami and resulting devastation, the country of Japan, Evangelical Free churches in Japan, and ReachGlobal personnel there are reeling. The EFCA received communication from staff in Japan, and it has been confirmed that all ReachGlobal personnel are safe. Thank you for your prayers!
In recent years, EFCA churches responded to crises such as the Asian tsunami, Hurricane Katrina and the Haiti earthquake with great generosity. Through EFCA TouchGlobal Crisis Response, we again have an opportunity to respond.
The hardship facing many in Japan gives the Church great opportunity to show the love of Jesus. TouchGlobal Crisis Response is assessing the situation, focusing upon:
Establishing reliable communications with ReachGlobal staff in country.
Responding to offers of assistance, and communicating the urgent need for immediate and long term giving to support the response.
Planning an assessment trip to Japan, allowing time for the situation in the most affected areas to stabilize.
Identifying potential partner ministries in Japan.
Coordinating with other international faith based crisis response and non-government organizations.
The EFCA has relationship with two Evangelical Free Churches and a church plant in Sendai--one of the hardest hit regions. Through pre-existing ministry contacts, funds will be channeled to respond directly to those who have no other means to recoup all they have lost.
Relief teams are not being sent during this initial stage of response. Prayer and donations are the immediate and priority need. Please give. Having learned from Hurricane Katrina and the Haiti earthquake, crises present the opportunity to extend the love of Christ in compassionate and tangible ways. You may be certain gifts will be used wisely and with the greatest accountability.
Funds designated for Earthquake relief efforts can be sent to the EFCA national office or you may give a gift online.
EFCA
Earthquake Relief 21709-39707
901 E. 78th Street
Minneapolis, MN 55420-1300
More information and current updates can be found at www.touchglobal.org/japan and the EFCA Crisis Response blog site at www.efcacrisisresponse.blogspot.com. For more specific information and to help in other ways, contact crisisresponse@efca.org or (985)893-0218 ext.7.
Pray that through ReachGlobal staff and TouchGlobal Crisis Response, the EFCA will extend the love of Christ ministering spiritual and emotional hope to the many people in need.
May the Spirit of God move you and your congregation to respond with generosity! Thank you for being the hands and feet of Jesus in this crisis.
T.J. Addington
Senior Vice President EFCA
Executive Director ReachGlobal
---
The Amazon
Wednesday, 09 March 2011, by SiteAdmin
Dear friends:
I leave very early Friday for the Amazon. We will be teaching the Old Testament to the new students. I fly from Miami to Venezuela to Quito, Ecuador then we drive to the Amazon Bible Seminary. I will also be preaching in the local churches on Sundays. Please keep me in your prayers as I travel and teach.
Blessings
Pastor Bob Stegemann
---
Good News Galapagos
Sunday, 13 February 2011, by SiteAdmin
Dear family and friends:
Operation World is the handbook that covers every nation in the world with pertinent information. In a previous edition it read with regard to the Galapagos Islands: "The 6,000 people living on the distant and barren Galapagos Islands, which had only one evangelical church with two members and six adherent in 1992". [1]
In the latest edition, Operation World printed a new and very encouraging report. 'The 28,000 people living on the distant and barren Galapagos Islands have a growing ministry through Missionary Ventures International.' [2]
What a great report! Your mission support is changing our world for the Lord. We are working with Hosanna Church on the island of Santa Cruz training church leaders and pastors in Bible College who have a genuine heart to reach the lost. We want to thank everyone who helps us and prays for us. You are making a very big difference. "Let them give glory to the Lord and proclaim his praise in the islands". Isaiah 42:12
[1] An excerpt from the section on the Republic of Ecuador, pages 230-232 under Challenges for Prayer, paragraph "9 the less-evangelized"
[2] pg 313 Operation World, 2010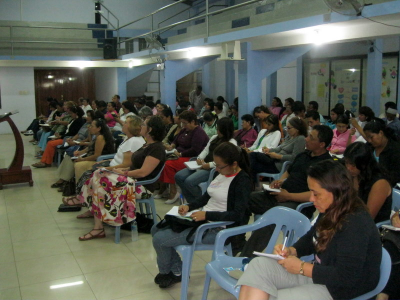 ---
Military Packages
Monday, 15 November 2010, by SiteAdmin
Lakeview is sending Christmas care packages to 41 US troops stationed in Korea. All items must fit in a shoebox-size package. If you wish to participate, but do not have time to shop, you can give cash and the church will use it to purchase items for the packages.
November 28, 2010 is the last day to donate. Please see the list below for suggested items.
Suggested Gift Items:
International Phone Cards
Board Games
Inspirational Books or Movies
Typical Stocking Stuffer Items
(Hard Candies, Peanuts, Etc.)
Greeting Cards
~Items will be divided among the forty-one Soldiers~
---
Message from Pastors Bob and Avis Stegemann
Wednesday, 24 March 2010, by SiteAdmin
Dear Family:
I just returned from Ecuador and wanted to share this short video. I pray that the Lord richly bless you in every way today.
This text will be replaced
---
Haiti Update
Thursday, 28 January 2010, by SiteAdmin
The Worldwide Missionary Evangelism group would like you to know:
Dear WME Member,
Thanks for the wonderful response to the Haiti Relief Offering. To date we have raised almost $150,000. We will be able to help a lot of people with such a generous offering. Here is what has transpired to date. Doctors Rik and Sabine Celie have been in Haiti for one week giving medical attention to those injured in the earthquake. Kent and Candy Christmas are still trying to get into Port-au-Prince. They have been able to get some money wired to help their orphanage. Dominic Russo sent a team from the Dominican Republic last weekend with food to feed over 5,000 people multiple meals. Eddie Whittemore is planning a trip to Port-au-Prince next week and will take money to help the 400 orphans that he helps to oversee. He also will be taking an offering to help Elim missionaries Roger and Margaret Clark purchase a truck. James White, a WME missionary in the Dominican Republic is sending in food and medical supplies via planes from the DR to Haiti. Roy Peterson, Missions Director for the IMA Fellowship is in Haiti with relief funds for the ministries they help oversee. Bill and Marlene Burch tell us all their boys and workers are safe, but their home was destroyed. I am thankful that we have been able to help with these emergency relief needs. The next stage will switch from relief to rebuilding. Jason Hanks is helping us put together a container filled with medical supplies and temporary building supplies. We plan to ship this container from New Orleans to Port-au-Prince. Roger Clark will pick up the supplies and help distribute them. We would like the pastors to please communicate with us about any people you have which would like to be a part of a construction team going to Haiti later this year. We want to begin putting together teams of ten which would concentrate on one building project for one week. The dates Roger has given us for the first teams would be February 19-28, anytime between March 21 and April 30, and July 1 and August 31. We envision sending many teams through the end of this year. Please let us know if you have any people who would like to go. Again, God bless you for all you do to advance the Kingdom of God.
Dale Yerton
---
Haiti Relief Update
Wednesday, 27 January 2010, by SiteAdmin
The Worldwide Missionary Evangelism group would like you to know:
Dear WME Member,
Thanks to everyone who has helped with the WME Haitian Earthquake Relief. You have been wonderful. At this point the donations have exceeded $100,000. We will be good stewards of your investment. Together, we can make a difference in thousands of lives. Thanks for your help. The situation in Haiti continually changes, and we are making adjustments to meet the need.
1. Currently, the greatest need is to keep people from dying. We are helping provide medical personnel, food, and purified water.
2. The next need will be temporary housing. We plan to begin filling containers with 2x4's and tarps which will get people off the streets and out of the sun and rain.
3. The next need is to start the rebuilding process. We will need teams of construction workers scheduled throughout the rest of this year to start rebuilding the churches which have been destroyed. These church buildings can become community centers to provide classrooms for school children and community centers to resource the rebuilding efforts of the community.
Please prayerfully consider what you and your people can do to help with this relief effort. We have an opportunity to help change a nation for the better. We are making a difference in our world. Dale Yerton
---
Help Haiti
Wednesday, 27 January 2010, by SiteAdmin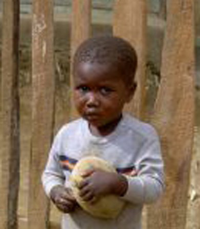 EFCA TouchGlobal Crisis Response is coordinating Haiti earthquake relief efforts through an EFCA church planter in Port-au-Prince, Haiti, the EFCA Southeast District superintendent and other partner ministries and relief organizations to set up a base for desperately needed work teams. For updated information and donations visit www.touchglobal.org/haiti.
As we holistically approach the great need, donated funds will go to:
Relief
Crisis related needs
Long-term recovery
You can help!
PRAY
For local area pastors to know how to respond
For the Body of Christ to re-spond in love
For a bold witness of God's mercy and grace

GIVE
Donate online now at www.touchglobal.org/haiti, or send checks to:
EFCA Earthquake Relief #21709-3970
901 East 78th Street
Minneapolis, MN 55420-1300
GO
If you or your church is interested in going to Haiti or sending a team, please call the EFCA TouchGlobal Crisis Response office at (985) 893-0218 ext 7.
---
Christmas Care Package
Saturday, 31 October 2009, by SiteAdmin
This year, Lakeview will be sending a care package to Lieutenant Adam Tippery, an EFCA chaplain who has been deployed to Iraq. Chaplain Tippery is a newlywed. If the Lord lays it upon your heart to help with this ministry, please bring the unwrapped item(s) to church by Sunday, November 29th. There will be a donation box in the foyer. Please remember in prayer the Tippery's and others in the service. A list of suggested items that are needed for the chaplains can be downloaded below.
Suggested Items